Applications
Non-woven Geotextile Applications and Technical Advantages
"Nonwovens already account for up to 80% of geotextile applications." –A R Horrocks and S C Anand, Handbook of Technical Textiles, 2000
Our selection of Non-Woven needle-punched geotextile products are produced meticulously to ensure we meet and exceed all required properties. Upholding the quality of our end product is vital to our customers and us. Our pursuant to excellence is managed by our in-house lab technicians who diligently perform multiple test procedures, to ensure a robust high quality product. There are four main functions of Geotextile uses; Filtration, drainage, separation, and reinforcement.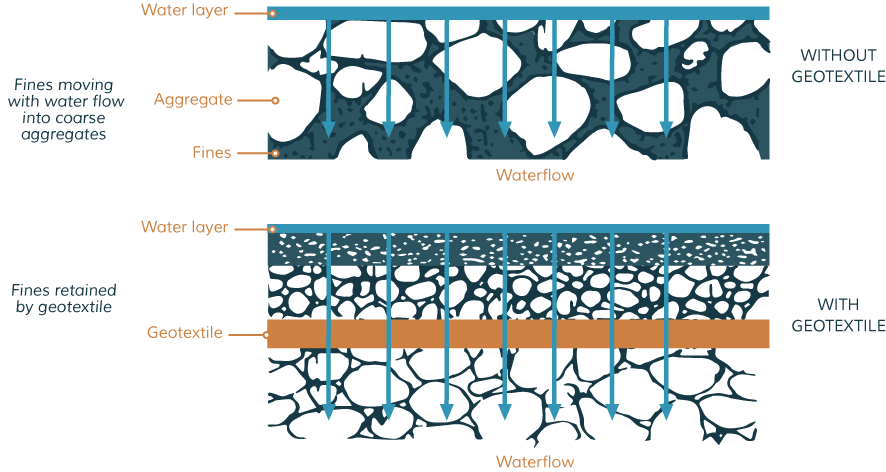 Filtration
Geotextile is a filter in that it permits the flow of liquids. At the same time it prevents the passage of soil particles which can cause settlement. The filtration opening size (FOS) within the geotextile is chosen to aid against blocking and clogging.

Drainage
Ground drains are put in place as a way of preventing or intercepting water flow. It is a means of which to reduce a possibility of a rise in pore water pressure. Often these drains are vertically sided trenches that are lined with a geotextile, and then they are filled with coarse gravel. This generates a zone (in the soil particles that remain) to bridge over the pores in the geotextile and retain smaller particles. Thus, a natural graded filter is formed that will assist in preventing additional washout of fine particles.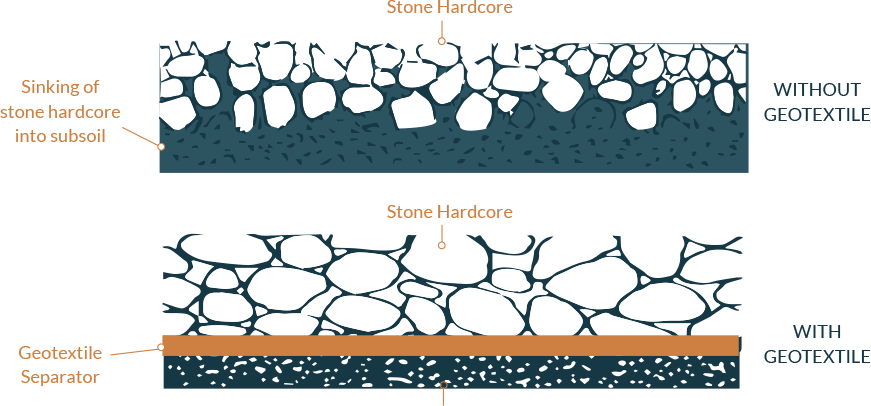 Separation
Geotextile products assist in separating solids from liquids, which becomes an essential part of numerous industrial processes. Geotextile is known as a separator in that it prevents the intermixing of coarse and fine soil materials. At the same time, it allows a free flow of liquids across the geotextile. This will help to maintain the purity of the product, assists in recovering precious materials, saves energy and leads to improvements in process efficiency.

Reinforcement
Synthetic Fibers such as Polypropylene/Polyester are used in geotextiles to extend the range of application for textiles and their uses in soil reinforcement.
Markets
1. Civil Engineering
Nonwoven geotextiles are employed in many ways in the construction industry, in the building of railways, roads, and embankments. Which can reduce the land required and disturbance to the local environment.
Effectively prevent cracking of concrete, asphalt or other material.
Can assist in the re-vegetation of embankments or the banks of rivers and water ways.
Erosion control for both permanent and temporary dams, bridges, tunnels, and roads.
Nonwoven PET is widely used in roofing applications. Fibers and textiles have a major role to play in building and equipment insulation. Modern metal-clad roofs and buildings can be lined with nonwovens to prevent moisture, condensation, and dripping.
2. Agriculture and Horticulture
Nonwoven geotextiles are used in agriculture for the purposes of drainage, reinforcement of soil, and weight distribution for agriculture equipment.
Non-woven matting is used in horticulture to distribute moisture to growing plants. Seeds themselves can be incorporated into such matting along with any necessary nutrients and pesticides.
Heavier nonwoven are employed for wind and hail protection.